1. Communicate. Communication is key in any game. You are just as much a part of the team as anyone else, and you have the luxury of seeing the whole entire field. Let your players know who is open, when a man is on, when they can shoot, etc. There is no such thing as over-communicating. In fact, the more communication there is, the more successful your team can be.
2. Brush up on your field skills, too. You are the "last line of defense, first line of offense". Your team can use you in many situations. If a man is on your teammate's back, that person may have to play the ball back to you. When that happens, you may have to one-time it to an open player, or take a dribble or two if you have room. Even after a save, you can always play the ball from your feet. If you play like a field player, that gives you a 12-11 man advantage.
3. Always catch the ball when you can. The only time this rule doesn't apply is when you are in a penalty kick overtime. Otherwise, always concentrate on trying to catch the ball. It cuts down on your work if you only have to make the save once. Sometimes it is impractical to be able to catch it. If you can't catch the ball, knock it as far away from the goal as possible! This includes punching over the net out of bounds!
4. Set up the field on dead balls. On corner kicks, free kicks, goal kicks, or penalty kicks, you always want to make sure you are positioned correctly, and that your team is positioned correctly. You are in charge of the whole field. Your first priority is to make sure you are in the correct position to tell your team what to do. Then you get set and ready. For instance, if you are building a wall, you have to first be in position to build your wall, then you get set and ready for the kick. On a corner, you have to get into a position to where you can tell your team to cover posts or help guard the man that's guarding you, then you get set and ready for the play.
5. Stay focused on the ball. It is a good habit to get into to stay focused on the ball and not the people around you. Though you should always know your surroundings, saving the ball is most important, no matter what (or who) you have to go through. You know the old saying "Keep your eye on the ball"? Well, the saying applies here, as well! You can lose sight of the ball in an instant if you're not focused on it.
6. Practice makes perfect. No matter how tedious goalkeeper training drills can be, they really help! Whether you need to work on your reaction time, catching the ball, or diving, drills and practice are really beneficial to your ability as a keeper. Even if you excel in one particular area, you should still practice. You don't want to let your skills get rusty!
7. Don't get discouraged. Being a goalkeeper is hard, and no one can tell you different. Sometimes balls get to the back of the net before you even know what happened. That's okay! Pick your head up and let your team get one back. Just because a ball gets through doesn't mean you haven't done your job. If you get discouraged, it can lead to mistakes, but if you keep your head up and have confidence in your play, you can still get the job done. It's a team sport, your team has to help you out and score some goals, too!
8. Take care of your equipment. Have a pair of either practice gloves or backup gloves, especially if you are the primary goalkeeper. Wear and tear on equipment can make for unnecessary mistakes on the field. Have a practice or backup jersey, too. This comes in handy especially when it rains. Warming up in a game jersey can make for a very uncomfortable game. Being uncomfortable can lead to careless and unnecessary mistakes! It's always good to have a practice set and a game set. That way you can be in your best form during the game.
9. Distribution is as important as anything else. If you miskick or misthrow the ball after a save (or even on a goalkick), the result could end up as a goal. If you need to throw it or roll it every time, do it. Just make sure you are distributing out to the flank and away from the goal. If you need to punt or dropkick the ball every time, then do that. The farther away from the goal the better, whether its to someone on the flank or someone on the other half of the field. If you can't kick far, make sure you have your sweeper or one of your defenders take the kick. That way you can stay set in your box and be ready for an unexpected play… Which leads to the last point…
10. Always be aware. Anything can happen on the field. A goal can be scored in the 90th minute, or even thereafter. Always be aware of your positioning, and what's going on around you. You never want a gaf like England's Robert Green in the World Cup. Nor do you ever want to be out of position someone can score a 50-yard goal on you, like David Beckham! Always be prepared for anything to happen!
Written by: Bonnie Koon
HEY! yah, YOU. Visit the best Soccer Shop, SoccerPro.com, for the best deals on ADIDAS AdiPures and quality soccer uniforms. And remember, "There's No Charge For Awesomeness!"

Positioning is one of the biggest componenets in goalkeeping. You never want to sit on your line, too far, because that allows the opposition to shoot on most of the goal. You don't want to be too far off of your line, either. That will allow the opposition to chip over your head and still get the ball in the back of the net.
So where's the perfect place to stand, you ask? Well that depends. Sometimes it's good to be back a little farther, sometimes it's good to be up a little closer, and sometimes it's good to stand a little toward the right or left. It's all about angles and covering your territory. Read more
Making a save may be the most difficult job a goalkeeper has, but the aftermath is very important! There are several ways to distribute a ball after making a save. You can punt, dropkick, drive, roll, or throw the ball out to your player. However you do it, accuracy and position are the key components to ball distribution. Read more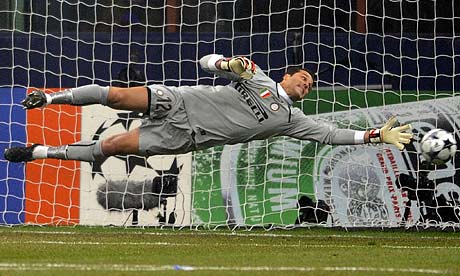 Recently I received a great question from a subscriber about how they can attack a ball driven wide, low and hard toward their goal. There are many factors that can negate a positive outcome in the above situation for a goalkeeper. Some are physical, some technical. The following diagram shows how a goalkeeper should move when attacking a ball driven wide, low and hard from directly in fron of the goal: Read more
I've just started with a new set of young goalkeepers at the Keeper Skool goalkeeper training service in Sydney Australia. It's interesting to see a wide mix of skill sets, and I'm always excited to get a glimpse into just how differently each goalkeeper attacks a certain drill.
This first week I decided to focus on footwork, basic set positions and basic handling. One thing that was brought to my attention early on was just how many young goalkeepers lack basic footwork skill and foot speed. Read more
Recently I had a great question from one of our subscribers in regards to what kinds of exercises one should implement to help gauge a goalkeepers ability during a trial: Read more
In a recent training session I was asked what a goalkeeper should do to to help take advantage of a corner situation. Keeping in line with the theme of "attacking" goalkeeping I believe that the corner situation can become the perfect attacking scenario and if leveraged effectively will provide a great way for your team to attack…but with an emphasis on lightning speed of distribution. Read more
Resident Keeper Skool goalkeeper strength and conditioning expert Mark Williams provides a window view on how he trains Jillian Loyden of St. Louis Athletica (of the WPS) to power up her leg strength with the dumbbell step up. Jillian is a two time All American from Villanova University and is back up goalkeeper for Hope Solo of the US National team and St. Louis Athletica. Read more
Sometimes it's hard to venture out from what you know best. It's may seem like it's always best to play safe and sound. But do you ever think how much more exciting it can be to take on a challenge when it is staring right back at you? Read more
Football Federation of South Australia goalkeeper coach Robbie Matosevic provides a great insight (with the following videos) on how a goalkeeper can perfect their diving technique. With each video, Robbie shares his analysis on what constitutes a good save and what it takes to iron out any weaknesses. Read more